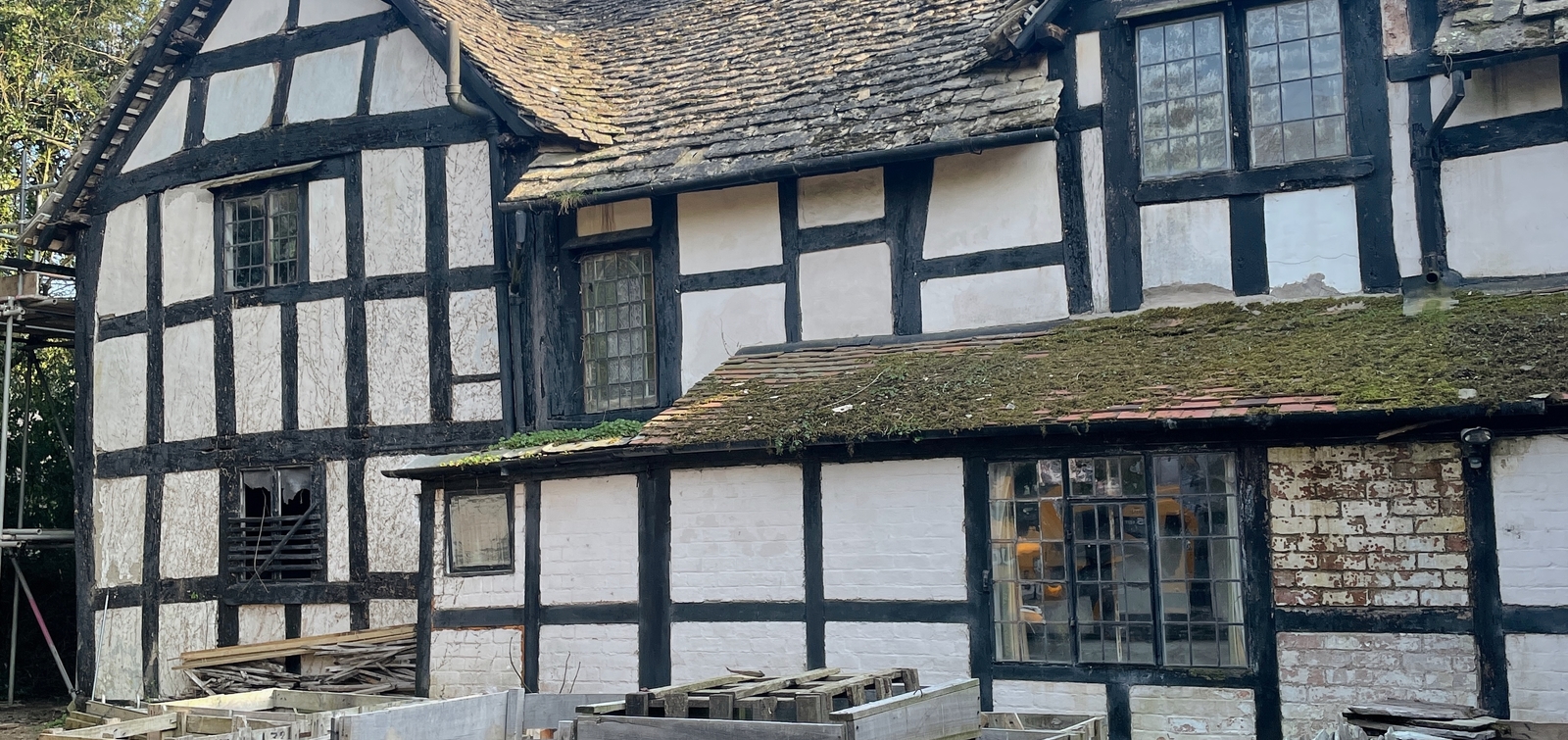 Border Oak 2022 Projects
An introduction
Here are Border Oak, we've never been shy of a challenge. This year, we're taking on four different but equally as exciting projects that comprise of a mixture of restoration and completely re-imagining sites into something that will be beautiful and sustainable. Of course, we will be taking you on the journey with us and where we can, keep you updated on our progress up until completion. 
You might have heard mentions of each project on our social media channels but if you haven't, here is a re-cap...
Staick House
A medieval Manor House in Eardisland, Herefordshire (pictured above) thought to date from mid 14th Century. It has suffered decades of neglect but this had sadly accelerated over the past 2 years and so now the restoration process is a little bigger than we first envisaged. Our intention is to restore the house using exceptional local crafts people and to return it to the splendid home it once was. As you can imagine, we are taking things step by step to ensure everything that needs repairing (quite a lot!) is completed properly and sympathetically⁠. Stay tuned for updates!
Whistelle Barn
Several years back, we purchased a site near Weobley, a fantastic village in North Herefordshire. For a long while, it has been home to a light industrial building (pictured right) of which we intend to dismantle, reuse and replace with a new dwelling under a new permitted development policy. We've started the process of clearing the space and will soon be constructing a new home based on a contemporary barn design to meet the planning restrictions but also ensuring that it's super eco and offers flexible, sustainable living. 
Once complete, it'll be for sale (if we can bear to let it go!) and will make a beautiful yet functional home with stunning views. Of course, it'll have many of the classic BO features such as local materials, internal & external oak frame, PV panels, an air source heat pump and considered landscaping. 
Yet another exciting one to keep up with - especially if you fancy a Border Oak home in Herefordshire!
The Welfare Unit at HQ
We are also about to start work on our super eco building at Border Oak HQ, which will provide a new space for our team during breaks and an opportunity to experiment on new materials and methods. We're investigating the use of various types of Wood fibre boards made form waste softwood which is pulped then reformed into the boards; it's sustainable, recyclable, compostable and contains few chemicals. Not only is it a good insulating material, it also has enhanced acoustic properties and its superior thermal mass it will also help the building stay cooler in summer.
To stay up to date with progress, keep an eye on our journal and follow along on our Facebook, Instagram and LinkedIn pages.