Workshop
Border Oak Workshop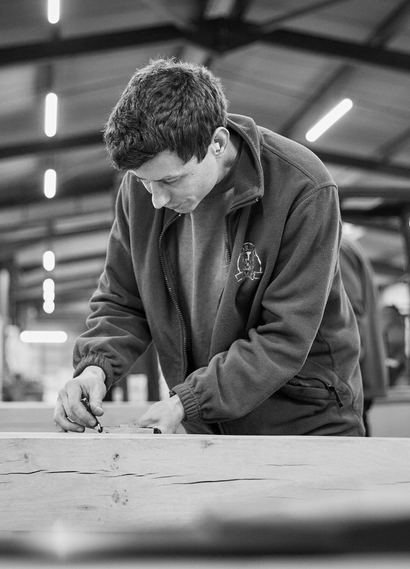 We are incredibly fortunate to have a large team of experienced green oak carpenters - traditionally trained, true craftsmen.
Every oak frame we produce is made by hand, using medieval carpentry skills in our traditional workshop. We  select the finest Restoration Grade green oak for every structure which are carpenters - using their experience and knowledge, passed down from one to another - then transform into amazing buildings. We are very proud of every frame they make and in awe of their skills, which Border Oak have spent 40 years reviving, protecting and harnessing for the future.
Our carpentry team are also qualified Timber Graders. This enables them to professionally check each piece of oak that is delivered from our suppliers and to uphold our very high standards - after all it would be futile to hand craft a substandard beam. We know our expectation is unusually high, but our carpenters are making structures that will stand for centuries and bear the marks of each and every member of our workshop team. So it has to be right.