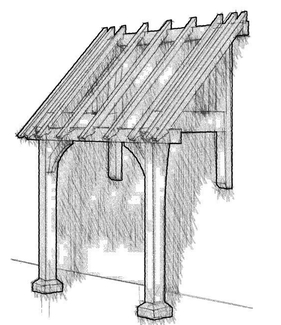 No. 10
A perfectly designed oak framed entrance to your house where there is a height restriction or where a simple mono-pitched porch works better with the existing roof lines.
Please note that this oak porch requires fixing to the existing building - we would be pleased to advise on our standard fixing detail (which would be subject to the construction of your wall).
Our oak frame kit provides all of the oak frame including oak rafters, instructions and drawings.  We also provide oak pegs, the correct sized drill bit, and nails etc.  Please note that bricks, roofing batten and tiles are not included.  Please contact us for a delivery quotation or you are of course welcome to collect from us.
Enquire